Frequently Asked Questions (FAQs)
How many languages are supported?
Voice to text support almost all popular languages in the world like English, हिन्दी, Español, Français, Italiano, Português, தமிழ், اُردُو, বাংলা, ગુજરાતી, ಕನ್ನಡ, and many more.
Min system requirements?
Voice to Text only works on Latest Google Chrome browser on any Operating system Mac OS, Windows or Linux OS. In a smartphone, it only supports the Android operating system with Google Chrome browser. It doesn't support the iPad or iPhone. But for the better result, we recommend use voice to text only on a desktop browser.
Not working on my system. What's wrong?
First, check you are on Google Chrome browser, Check your microphone properly connected to the computer and your desktop or laptop connected to the internet. If more than one microphone connected to the computer select the right one in the browser tab.
If some other Speech Recognition software uses or run in other browser tab, then first close the other one to use the voice to text web app. Speech Recognition technology doesn't support listening more than one browser tab at the same time. If red blinking dots shows in the browser tab, it indicating Speech Recognition are activated or your microphone is used.
How to unblock and switch the microphone to use voice to text?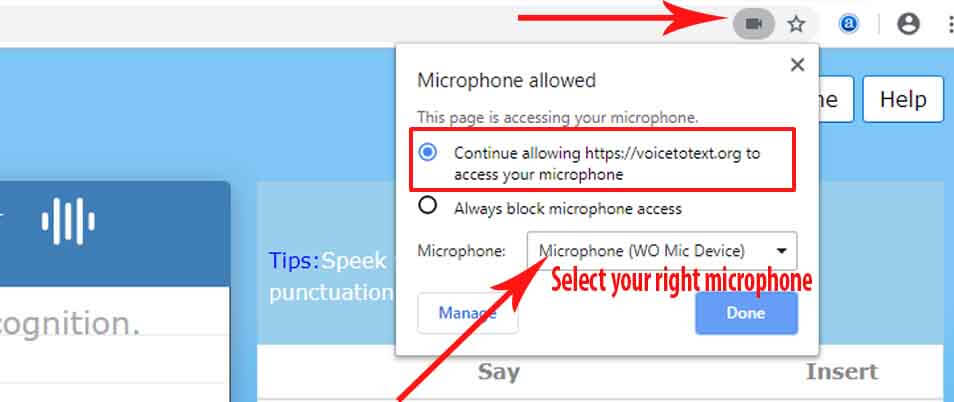 To unblock or switch to other microphone connected to the computer. Go to the address bar you can see the camera icon in the right corner in the address bar. Click on that a new model window open. Here you can check "Always allow https://voicetotext.org to access your microphone".
To switch different microphone click on the dropdown button on the bottom of the same model window. After clicking on the dropdown, you see all the microphone connected to the system select the desired one to use in the voice to text website.
Work offline or not.
No, you cannot use it offline mode. It depends upon the Google speech recognition engine and works entirely on online connectivity.
What's about my data is safe or not?
Voice to text doesn't store any data anywhere in the cloud even a single word. Your data is entirely stored in your locally in your browser catch storage. Even no need to sign up to use voice to text web app. So your personal data is also safe like name or email address. You can use voice to text website confidently without any insecurity of data loss or stolen in your business project and personal work.